Integrated Ventures, Inc. Announces Pricing of $9.0 Million Registered Direct Offering.
Integrated Ventures, Inc. (OTCQB: INTV) announced that it has entered into a securities purchase agreement with certain institutional investors to purchase approximately $9.0 million worth of its common stock and warrants in a registered direct offering.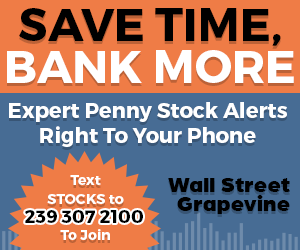 According to the release the company has agreed to sell approximately 30.0 million shares of its common stock and warrants to purchase approximately 30.0 million shares of common stock.
The warrants will be exercisable immediately upon the date of issuance and have an exercise price of $0.30 per share. The warrants will expire 5 years from the date of issuance. The purchase price for one share of common stock and one corresponding warrant will be $0.30. The gross proceeds to the Company from the registered direct offering are estimated to be approximately $9.0 million before deducting the placement agent's fees and other estimated offering expenses.
According to Form 424 (b)(5) the proceeds are to be 8,460,000 after the placement fee but before some additional offering-related expenses.
Integrated Ventures, Inc. is a Technology Portfolio Holdings Company with a focus on Hosting, Development of Blockchain Applications, and Cryptocurrency Mining.
Market Action
INTV traded 1,918,369 shares Thursday April 1 closing up .0029 or just under 1%. Volume was below its 10 day average of 2.6 million, 20 day average of 2.9 million and 60 day average of 5.6 million shares a day. Pivot points to keep an eye on are .4066, 4332 and .4831 on the upside and .3667, .3334, and .2835 to the downside.
About DRP Gazette
DRPGazette.com reports on news from the Wall Street Grapevine. We cover penny stocks, breakouts, momentum plays, catalyst plays, bounce plays, and more. If you have a story investors should hear about or are interested in being a contributor please contact Editor@DRPGazette.com.