Beyond Commerce, Inc. (OTCMKTS:BYOC) announced today the closing of a $1 million equity financing with a fixed price of $0.01, representing a 370% premium to the current market share price.
According to the release the funding is from an existing institutional shareholder and is subject to resale under a registration statement or Rule 144 eligibility in six months.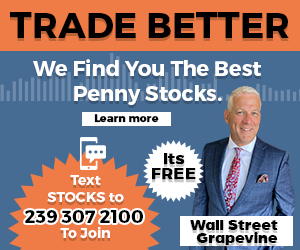 Market Action:
As of 10:05 4/5/2021 Beyond Commerce, Inc. (OTCMKTS:BYOC) was trading at .0039 gaining .0012 up 44.4%. Volume is heavy at 157 million shares well above its 10 day average of 53 million and 30 day average of 95 million shares a day. PIvot points to watch are .0048 and .00615 above. The price is slightly below its 30 day moving average of .0042.
About Beyond Commerce,Inc.
Beyond Commerce, Inc. (OTCMKTS:BYOC) is focused on business combinations of "big data" companies in global B2B internet marketing analytics, technologies and services. The Company's objective is to develop and deploy disruptive strategic software technology that will build on organic growth potential and to exploit cross-selling opportunities. Beyond Commerce plans to offer a cohesive global digital product and services platform to provide clients with a single point of contact for their big data, marketing and related sales initiatives.
About DRP Gazette
DRPGazette.com reports on news from the Wall Street Grapevine. We cover penny stocks, breakouts, momentum plays, catalyst plays, bounce plays and more. If you have a news story investors should hear about or are interested in being a guest contributor please contact Editor@DRPGazette.com