Here are 4 big OTC penny stock movers from Tuesday that should be on your watchlist for Wednesday.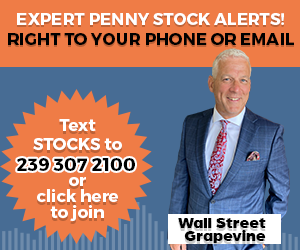 American Leisure Holdings, Inc (OTCMKTS:AMLH) shares were up 86.67% closing at $0.0028 up .0013 on Tuesday. Although there was no news, the stock traded 802 million shares on the day well above its average daily volume of 122 million shares. This was the largest single-day volume since December 9th, 2020. 
Creative Medical Technology Holdings Inc (OTCMKTS:CELZ) was up big on Tuesday as the stock soared 52.50% and closed at the highest point of the day $0.051. More than 80.36 million shares changed hands Tuesday. CELZ stock traded between .0318 and .0510. The stock should be on your watchlist today considering the strong momentum this week.
MDM Permian Inc (OTCMKTS:MDMP) closed at $0.25, higher by 30.89% for the day. Volume was 28.75 million shares well over its 30-day average trading volume of 6.35 million shares. The stock traded in a wide intraday range of $0.16 – $0.40. The stock has soared 1150% over the past month. Last week, the company made an announcement about the completion of an oil well deal.
Fomo Corp (OTCMKTS:ETFM) closed up 26.11% on Tuesday ending the day at $0.0099. Volume was 161.70 million shares below its 30-day average trading volume of 219.68 million shares.  ETFM traded between .0076 and .0103 and closed near the top of its range so traders may be watching this for a potential break.

About DRP Gazette
DRPGazette.com reports on news from the Wall Street Grapevine. We cover penny stocks, breakouts, momentum plays, catalyst plays, bounce plays, and more. If you have a news story investors should hear about or are interested in being a guest contributor please contact Editor@DRPGazette.com.