In recent times the stock market has been in the middle of significant turmoil and hence, stocks trading in a range may not be particularly bad news. Yesterday, the American International Holdings Corp (OTCMKTS:AMIH) stock was trading in a range but it may well be a good idea to take a closer look into the company and recent developments in order to figure out if the stock could in fact break out any time soon or not.
Market Action
On Thursday, AMIH stock ended flat at $0.39 with 144 shares, compared to its average volume of 2.7K shares. The stock moved within a range of $0.3900 – 0.3900 after opening trade at $0.39.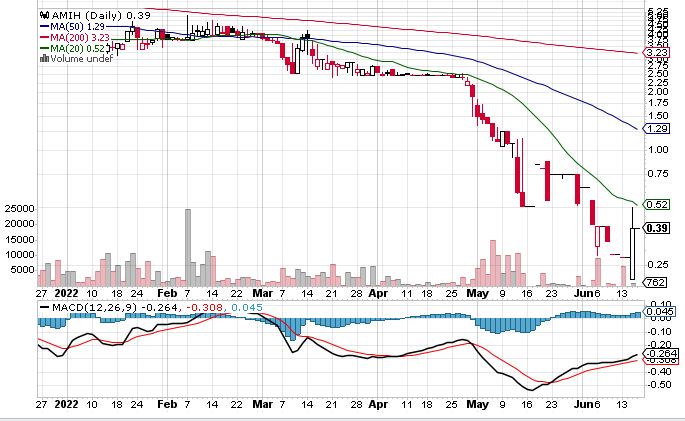 About American International Holdings Corp
The company is involved in investing in and developing assets in the fast-growing health and wellness space. At this point in time, the company is involved with assets in telemedicine as well as in other forms of virtual healthcare delivery businesses, concierge medicine plans, and preventive care businesses among others. The company does the marketing of the various services it offers by way of business-to-business as well as direct-to-customer distribution models.
AMIH Subsidiary EPIQ Scripts Receives Pharmacy License with Texas State Board of Pharmacy
Yesterday, the company was in fact in the news after it made a key announcement with regard to one of its subsidiary units, EPIQ Scripts LLC. The company announced that EPIQ Scripts had been successful in obtaining a pharmacy license. The license was awarded by the Texas State Board of Pharmacy.
However, that was not all. In addition to that, the company had also been successful in getting the National Provider Identifier number and consequently, became a member of the standards development authority entity National Council for Prescription Drug Programs. These are all significant developments and it would be interesting to see how it affects the stock of EPIQ Scripts' parent company in the coming days.
It should be noted that it was announced yesterday that EPIQ Scripts is looking to function in the capacity of a mail-order compounding pharmacy that will operate exclusively online. The company has been successful in growing its patients and customers fairly rapidly in recent times and it would be interesting to see how the latest permit helps the company grow. At this point in time, it may be a good idea for investors to add the American International Holdings stock to their watch lists.
Key Quote
"I am extremely pleased with the accomplishments and significant progress EPIQ Scripts has made in such a short period of time, since officially launching earlier in February," commented Jacob Cohen, President, and CEO of AMIH.
Traders Note
AMIH stock is trading below the 20-Day and 50-Day Moving averages of $0.55 and $1.29 respectively. Moreover, the stock is trading in the neutral zone with RSI stands at 33.