One of the stocks that emerged as a major gainer on Tuesday was the Global Diversified Marketing Group Inc (OTCMKTS:GDMK) stock. It attracted considerable interest from investors and ended up clocking gains of as much as 69% for the day. In light of such enormous gains, it may be a good idea for investors to consider taking a good look at the nature of the company's business and the developments which led to the rally.
Market Action
On Tuesday, GDMK stock soared 69% to $0.1790 with 5K shares, compared to its average volume of 633 shares. The stock moved within a range of $0.1790 – 0.1790 after opening trade at $0.1790.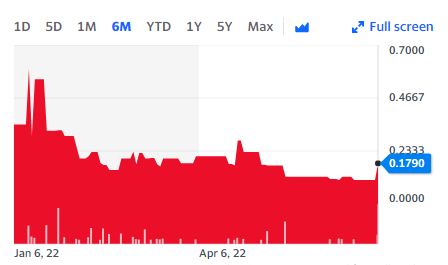 About The Company
Global Diversified Marketing Group operates a division that is involved in the snack and food manufacturing industry, while on the other hand, it also has a subsidiary that is involved in the important export in Europe, Canada, and the United States.
The company is known for offering a wide range of snacks started from wafers to croissants to pralines and gourmet snacks. Global Diversified Marketing Group sells its products by way of a range of distribution channels and also directly.
Global Diversified Marketing Group Expands Distribution with Bealls, Inc. in 17 States with Over 550 New Outlet Store Locations
The company was in the news yesterday after it emerged that it had decided to expand its distribution network and it was perhaps not a surprise that such a development led to considerable excitement among investors. Global Diversified Marketing Group announced yesterday that it had managed to secure a distribution agreement with Bealls Inc.
The company noted that the deal would make its brand stronger and take its products to a new market. The President and Chief Executive Officer of the company Paul Adler spoke about the development as well. He stated that everyone at the company was excited at the prospect of adding Bealls to the distribution network of Global Diversified Marketing Group.
He noted that prior to the agreement, the number of stores in which the company's products were available stood at 5000 stores. Adler went on to state that the addition of Bealls could also bring significant revenue growth for Global Diversified Marketing Group.
He also noted that the company was going to continue to explore opportunities for further expansion. At this point in time, Bealls operates 550 stores which are spread across a total of 17 states.