Diversified company, Sanwire Corporation (OTCMKTS:SNWR), is focused on technologies for the entertainment industry. The firm has been engaged in aggregating technologies for some years and always targets opportunities in fragmented markets. The technology can be applied to consolidating services into a single delivery platform.
Trading Data     
On Thursday, SNWR stock gained 2.60% to $0.0079 with more than 5.5K shares, compared to a volume of 124K shares. The stock moved within a range of $0.0079 – 0.0079 after opening trade at $0.0079.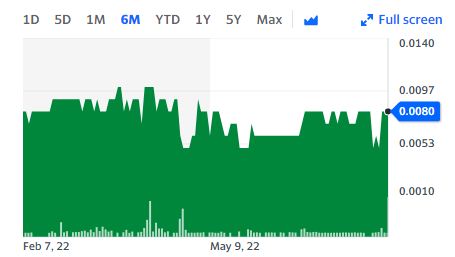 Sanwire Corporation Provides Performance Guidance for Q2/2022 with Revenue Increase of Approximately 175% on a Year-Over-Year Basis
Sanwire Corporation on August 4, 2022, provided revenue growth and guidance for the wholly-owned subsidiary, Intercept Music Inc. The firm's revenues for quarter two ended on June 30, 2022, witnessing an increase of about 175% vis-à-vis the previous year. The company will be publishing second-quarter financial statements as well as operational performance in some weeks. The figures are unaudited and based on a consolidated basis.
The second quarter's excellent performance and higher revenues can be attributed to multiple factors with growth in all major income streams. The significant drivers behind higher revenue include 8.6 million verified streams for the period ending May 2022 and the partnership launch with Method Man in April 2022. Furthermore, there was an uptick in demand in the label incubation program as well as an extensive playlisting services program. Additionally, there was an addition of new artists to the Intercept platform, an increase in the marketing staff, and more operational staff resulting in quicker onboarding processes. There were many enhancements to the proprietary software eliminating manual processes.
Revenue growth increase is expected to surge in quarter three of 2022 as the company pushes ahead with multi-faceted marketing campaigns. Some other drivers contributing to third-quarter revenue growth include the partnership with over 7,000 titles reggae catalog and the partnership launch with Method Man continuing to bring extra revenues. Lastly, the recent partnerships with influential players in the music industry including Litco Entertainment and CC Enterprises will generate more customers and leads.
Tod Turner, President of Intercept said that the company is excited about the revenue growth and feels amazing about the manner in which it has customized the offerings. Turner added that the growth in revenues gives confidence in being on the right path to success.
The firm's online platform is dedicated to facilitating bands and independent artists to distribute, promote as well as earn income from music. Its platform enables artists instant access to digital stores and major streaming platforms, including Spotify, Amazon Music, Apple Music, Pandora, and Google Music.
Intercept Music, a Sanwire Corp. Subsidiary, Announces Almost 400% Increase in Streaming Figures
Sanwire Corporation on August 2, 2022, announced a 396% increase in May 2022's month-over-month streaming figures to 8.6 million streams. The firm's partnership launches with Method Man contributed significantly to the rise in streaming figures.
Tod Turner, Intercept's CEO said that the company is excited about announcing the recently verified streaming figures. Turner added that the firm is excited to see the long-term marketing strategies and operational excellence paying off. Turner added the typical revenue recognition cycle is 3-4 months from uploading a song to receiving royalties.
Technical Data
SNWR stock is trading below the 20-Day and 50-Day Moving averages of $0.0072 and $0.0074 respectively. Moreover, the stock is trading below the 200-Day moving average of $0.0081.