1812 Brewing Company (OTCMKTS:KEGS) has emerged as one of the more interesting names in the beer brewing industry in recent times but this morning the company made a major new announcement that investors could do well to look into.
Market Action
On Tuesday, KEGS stock moved up 52.28% at $0.0003 with more than 61.13 million shares, compared to its average volume of 44.12 million shares. The stock moved within a range of $0.0001 – 0.0003 after opening trade at $0.0002.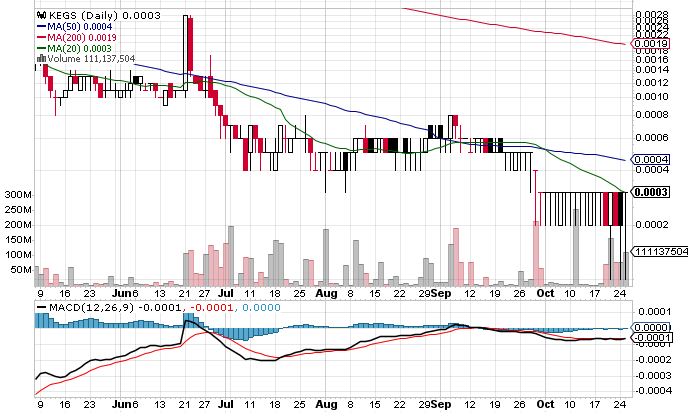 1812 Brewing Company Eyes Opportunities in Alcohol-Free Beverages Markets
The company announced this morning that it was exploring the possibility of making an entry into the alcohol-free beverage market. The move is going to include entries into the nutraceutical and wellness spaces, craft sodas and tea markets as well. However, the company's plans are not only limited to those markets. In this regard, it should be noted that 1812 Brewing Company already has a strong beer distribution and manufacturing infrastructure in place for its main beer business.
Hence, 1812 Brewing Company is going to now look into the possibility of leveraging that competitive advantage to get into the non-alcoholic beverage industry. It is a fast growing industry and the company is looking to get a foot in the door by way of innovative and unique wellness formulations as well as new flavors.
The craft soda market was valued at $641.24 million back in 2021 and it has been projected that by 2027 that market is going to be worth as much as $768.98 million.
Key Quote
"In particular and as it relates to the nutraceutical market," stated Chairman & CEO Tom Scozzafava, "based on our market research we are intrigued by certain rare natural extracts demonstrating health benefits and the potential associated with the medicinal-grade Australian Jelly Bush Honey.  Australian Jelly Bush Honey is relatively nascent in its use in America, but it is regarded as the one of nature's most precious gifts. Recent research is showing that compounds found in Manuka honey stimulates the production of immune response proteins in the body that may facilitate enhanced healing and recovery.  These proteins, called cytokines, are the chemical messengers expressed by your immune cells to organize immune responses.
Traders Note
KEGS stock is trading below the 20-Day and 50-Day Moving averages of $0.0003 and $0.0005 respectively. Moreover, the stock is trading below the 200-Day moving average of $0.0019.