A stock that may well be worth looking into this morning is that of Xtra Energy Corp (OTCMKTS:XTPT), which had made a major new announcement on Monday. The company announced yesterday that it was pleased to provide a first look into its Arrance Antimony Prospect.
Market Action 
On Monday, XTPT stock increased 5.66% to $0.1890 with more than 235.81K shares, compared to its average volume of 127.01K shares. The stock moved within a range of $0.1775 – 0.1890 after opening trade at $0.1789.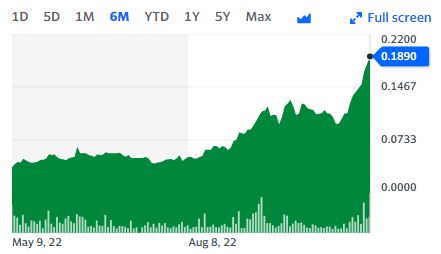 Xtra Energy Corp Announces the First Look at the Historic Arrance Antimony Prospect, Video Attached, Arrance Underground Mine Inspection to Follow in Our Next Release
The prospect in question is situated at the American Antimony number 3 lode claim, which is owned in its entirety by Xtra Energy. It was further noted that 61 Arrance is situated on the Southern side of Bernice Canyon and around 40 feet above the floor of the canyon. The company further mentioned that the antimony production at the site worked out to around half of a ton but the composition had been of a similar quality as the ones that had been produced at Antimony King Mines and at I.H.X.
The company also released a video about its activities at the site and there was visible excitement from among the members of the exploration team at Xtra Energy. The company also noted that it had not edited the video so as to reflect the excitement that had been felt by the exploration team. It will be interesting to see if the Xtra Energy stock can now managed to clock some gains.
Technical Data
XTPT stock is trading above the 20-Day and 50-Day Moving averages of $0.12 and $0.11 respectively. Moreover, the stock is trading above the 200-Day moving average of $0.05.