Although the company made a fairly positive announcement yesterday, the Cann American Corp (OTCMKTS:CNNA) stock took a beating from investors and ended up with a decline of as much as 20% for the day.
Market Action
On Wednesday, CNNA stock decreased 20% to $0.0084 with more than 9.95 million shares traded, compared to volume of 4.31 million shares. The stock moved within a range of $0.0081 – 0.0108 after opening trading at $0.0105.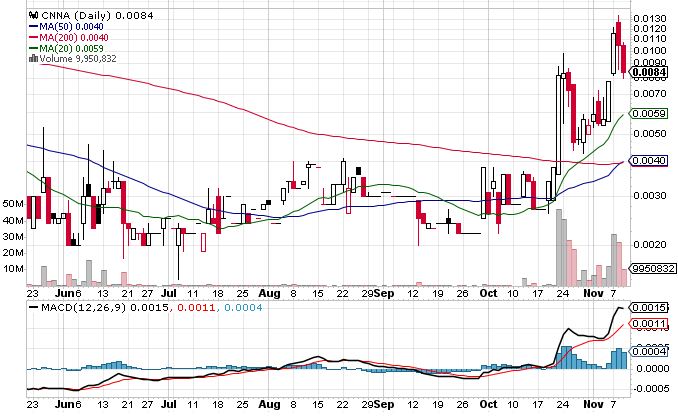 Cann American Corp. Announces Next Binding Letter of Intent
The company, which is involved in creating a diversified portfolio of intellectual properties, was in the news yesterday after it made an announcement with regards to another binding letter of intent that it had signed. As per the provisions of the agreement, the company would pick up a 75% stake in Valkyrie Systems Inc through the purchase of 75 million shares in the latter. In exchange, Cann American would hand over as many as 10,000,000 series C preferred shares.
It was a significant new development for the company but it did not elicit any kind of optimism from investors and it is going to be interesting to see if the Cann American stock can make a rebound today. Valkyrie is a company that had been established as a contractor as well as sub-contractor that was supposed to work with the United States Department of Defense and the United States Military. Hence, it is an acquisition that could potentially prove to be a long term boost for Cann American.
Key Quote
Stated Cann American CEO, Alexander Woods-Leo: "I'm extremely excited to work with Valkyrie and Mr. Barajas. This acquisition represents an amazing opportunity for the Company and its shareholders as Valkyrie intends to pursue an array of US military backed contracts that can generate exponential revenue growth to both Valkyrie and Cann American."
Technical Data
CNNA stock is trading above the 20-Day and 50-Day Moving averages of $0.0064 and $0.0040 respectively. Moreover, the stock is trading above the 200-Day moving average of $0.0040.