Hemp Inc (OTCMKTS:HEMP) – When it comes to the marijuana industry legislation is almost always seen as one of the more important positive triggers and that bring us to the subject of the H.R. 8454 – Medical Marijuana and Cannabidiol (CBD) Research Expansion Act.
Market Action
On Tuesday, HEMP stock ended flat $0.0005 with 76.18 million shares, compared to volume of 81.75 million shares. The stock moved within a range of $0.0004 – 0.0005 after opening trade at $0.0005.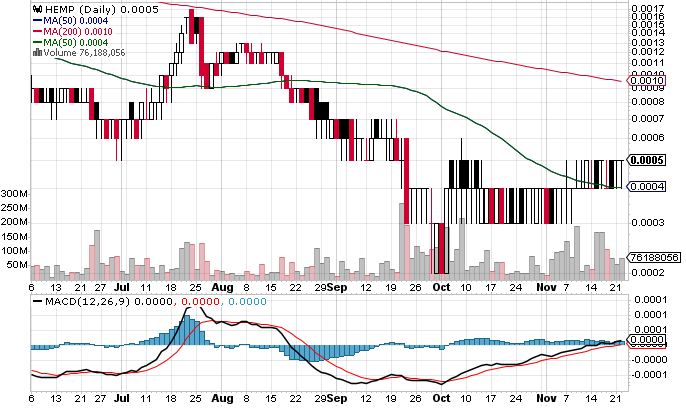 Hemp, Inc. Reports: Marijuana-Cannabidiol (CBD) Bill Signals New Era in Federal Cannabis Policy
That will also bring attention to many companies and in particular companies like Hemp Inc. The company announced yesterday that the fact that the bill had been sent to the POTUS for approval after being approved by the House and the Senate, was an 'unfathomable feat'. Considering the fact that the bill had been passed by unanimous consent was also an indication that the attitude of lawmakers towards the cannabis industry was changing in a big way.
As it happens, the United President Joe Biden had stated in the past that the country's approach towards marijuana had been a 'failed' one and had gone on to note that it was time to correct those wrongs. The change in attitudes in Washington is a major new development for the industry at large and it is going to be interesting to see how the markets react to the move. In such a situation, it could be a good idea for investors to keep an eye on companies like Hemp Inc.
Technical Data
HEMP stock is trading above the 20-Day and 50-Day Moving averages of $0.0004 and $0.0004 respectively. However, the stock is trading below the 200-Day moving average of $0.0010.