If you are looking into the big movers from this morning, then it might be a good move to have a look at the NexOptic Technology Corp (OTCMKTS:NXOPF) stock. This morning the company made a joint statement with Pristine Surgical LLC with regards to a partnership that has been established between the two companies.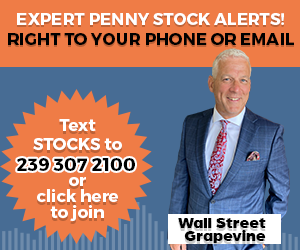 After the announcement was made, NexOptic Technology Corp (OTCMKTS:NXOPF) jumped on the back of considerable interest.
Market Action
As of 12:30 NXOPF was trading up 22% gaining .0754 to .4128. NexOptic Technology Corp opened the day at .3717 and has ranged between .3701 and .455. Volume has been heavy 874,701 shares trading 800% over its 30-day average volume of 109,773 shares. Potential pivot points to keep an eye on are .472 and .557 above and .32 and .30 below.

It was announced that as part of this exclusive partnership NexOptic is going to provide its artificial intelligence-backed imaging technology to the single-use endoscopic visualization platform from Pristine Surgical. It is a significant deal for both companies and the optimism among investors is understandable.
In addition to that, an effort is also going to be made to use Allis technology from NexOptic for the single-use endoscopic visualization platform meant for image optimization from Pristine.

NexOptic is an innovative imaging AI company headquartered in Vancouver, Canada with operations in Seoul, South Korea, offering a world-leading AI platform for imaging known as ALIIS™ (All Light Intelligent Imaging Solutions). NexOptic simultaneously influences the optics and AI industries and is a Preferred Partner in the NVIDIA Partner Network, a member of the Arm® AI Partner Program, and a member of the Qualcomm® Platform Solutions Ecosystem. For more information, visit www.nexoptic.com.
About DRP Gazette
DRPGazette.com reports on news from the Wall Street Grapevine. We cover penny stocks, breakouts, momentum plays, catalyst plays, bounce plays, and more. If you have a news story investors should hear about or are interested in being a guest contributor please contact Editor@DRPGazette.com.