Investors are bidding up prices of GeneThera, Inc. (OTCMKTS:GTHR) following the release of news this morning.
Price Action: As of 11:15 EST shares are trading at .1625 up .12925 for a gain of 359%. Volume 4.3 million shares on 940 trades. The 30-day average volume is 16,000 shares and 3 trades a day.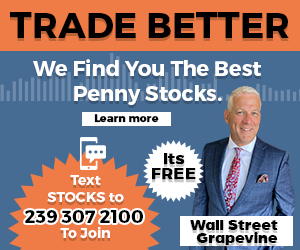 Highlights from the release
Growing evidence shows that SARS-Cov-2 is present in wastewater, suggesting that wastewater could be a source of epidemiological data on assessing human health risk. Testing wastewater can be used to monitor outbreaks of COVID-19 in communities, allowing for early intervention.
GeneThera has spent several years developing state-of-the-art technology to test zoonotic diseases using advanced integrated laboratory robotic platforms that allow detection in a highly sensitive and rapid process. We have developed a Molecular Robotic/Artificial Intelligence Platform (MORAP) capable of processing hundreds of thousands of samples daily, with minimum human intervention.
We believe that by creating a network of labs using our MORAP system we can efficiently provide a continuous and systematic monitoring of wastewater which may allow for early warning signs of SARS-Cov-2 infection and will identify undiagnosed or successive disease at the population level; alerting public health officials of ongoing or future viral disease outbreaks. 
About DRP Gazette
DRPGazette.com reports on news from the Wall Street Grapevine. We cover penny stocks, breakouts, momentum plays, catalyst plays, bounce plays, and more. If you have a news story investors should hear about or are interested in being a guest contributor please contact Editor@DRPGazette.com