TechX Technologies Inc. (CSE: TECX) (OTCMKTS: TECXF) is trading higher on news this morning.
Market Action on the OTC market.
As of 12:01 shares of TechX Technologies are trading 57% higher up .256 at .70 cents. Volume is 1.4 million shares ten times its 30 day average of 104,000 shares a day. The stock opened at .4619 and has a trading range between .454 and .7654. Potential pivot points to keep an eye on are .865 and 1.17 above and .343 and .243 below.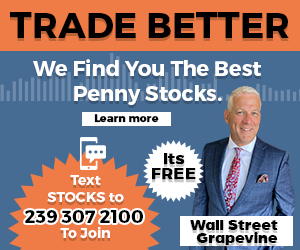 Highlights from the news release
TradeX Technologies Inc. (OTCMKTS:TECXF) announced that its portfolio company, Catalyx Exchange ("Catalyx") intends to list its Canadian stablecoin, CADX on the Bittrex Global Exchange. Bittrex is one of the world's top 10 cryptocurrency exchanges in terms of liquidity and provides the widest selection of cryptocurrencies.
Catalyx.io, Canada's premier cryptocurrency exchange with over 40+ altcoins available for purchase, launched its Canadian dollar fiat-backed stablecoin CADX in 2020 through a partnership with Seattle-based fintech company Stably. The CADX coin is expected to list on the Bittrex Exchange the week of May 10, 2021.
Every CADX token is fully-backed and redeemable for $1 Canadian dollar and is held in an audited account managed by Prime Trust, a Nevada-chartered trust company who is the official regulated trustee and CVC administrator for CADX. CADX is powered by Stably's ERC20 smart contract technology, which has been audited by leading US-based blockchain security firm, QuantStamp.
"We are beyond excited to become the first Canadian dollar-backed stablecoin to be listed on one of the world's top 10 crypto exchanges," said Catalyx CEO Jae Park. "The listing of the CADX coin on Bittrex is great news not only for the company, but for crypto traders across the globe who want more options to choose from."
Catalyx and Bittrex first partnered in 2018 to launch the Catalyx Exchange and provide a solution for Canadian customers who wanted more selection for digital assets, but on a secure, reliable platform in Canada.
About DRP Gazette
DRPGazette.com reports on news from the Wall Street Grapevine. We cover penny stocks, breakouts, momentum plays, catalyst plays, bounce plays, and more. If you have a news story investors should hear about or are interested in being a guest contributor please contact Editor@DRPGazette.com.
Source: PR Newswire